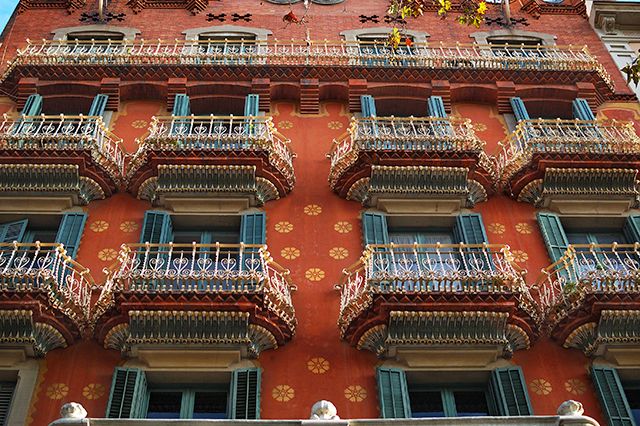 Last Saturday I went for a walk down Passeig de Sant Joan to test my brand new Nikon 35mm f/1.8G AF-S DX lens. I stopped before this building attracted by the beauty of the balconies. I did not know the name which I found later when I got home. After some research online, I learned that it is called
Casa Laplana
or
Casa Mundó
and was build by
Bernardí Martorell
in 1907. This Catalan architect born in 1877 belonged to a wealthy family and received a good education. Got his architecture degree in 1902. He worked for some time in the Sagrada Familia and was a friend of Gaudi's. His work is considered part of late Catalan modernism but some of his buildings have a touch of
historicism
. Many of his works were religious buildings like the
Església de Sant Agustí in Sabadell
,
Convent de Valldonzella in Barcelona
,
Església dels Escolapis in Sabadell
,
Església i Convent del Santíssim Redemptor de les Oblates de Bellesguard
in Barcelona or the Col·legi de les Teresianes in Tarragona. Bernardí was influenced by English
neo-gothic
and also had a passion for oriental art and architecture. He died in Hospital de Sant Pau in 1937 of acute myocarditis. But I leave you watching the elaborate ironwork, the orange stucco façade with serigraphed flowers mixed with the bare bricks in the upper floor. In the picture you cannot see the ceramic tile cupola on top or the stone gallery of the first floor but you can follow this link to see the full view of
Casa Enric Laplana
or check it on the
map
. The lens worked out fine by the way although I'll save it for street photography.