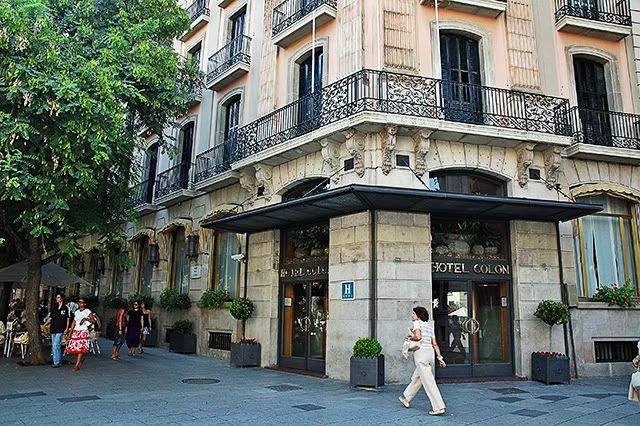 To finish this hotel series for now, I leave you with a view of
Colon Hotel
right in front of Barcelona Cathedral in
Barri Gotic
. I know the picture is no big deal but if you look it up on a Barcelona map you'll
find out how well located this renown hotel is
. With time Barcelona Photoblog pretends to be a little helpful guide to visitors so the more information the better, specially finding accommodation in town. I have often wondered why so many travel guides offer those tiny pictures that may ruin your logical enthusiasm prior to the discovery of a new city. They are like a very small window, you want to look inside and capture as many details as possible, full of illusion as you are, and there's no way to stick your head inside to take a look around. So whenever possible I will try to show you some hotels, museums, etc that may not be of photographic interest but will surely let you lean on the window and take a glimpse at Barcelona.
Updated 07/2023:
Hotel Colón: Exquisite Accommodation in the Heart of Barcelona's Gothic Quarter
But now let us go through the imaginary window and demonstrate why it is a great option when it comes to finding accommodation in our city:
Nestled in the heart of Barcelona's historic Gothic Quarter, Hotel Colón stands as an exceptional choice for the discerning traveler seeking unrivaled comfort and convenience. With its proximity to the iconic Barcelona Cathedral, this splendid hotel offers an unforgettable experience, refined accommodations, and unique offerings that transport guests to the heart of Barcelona's rich cultural tapestry.
Unparalleled Location near Barcelona Cathedral:
Hotel Colón boasts an enviable address, perfectly situated just steps away from the revered Barcelona Cathedral. This privileged location allows guests to immerse themselves in the architectural wonders and storied history of the Gothic Quarter. Meandering through its labyrinthine streets, visitors will encounter hidden gems, picturesque plazas, and charming boutiques that paint a vivid portrait of Barcelona's exceptional past.
Elegance and Comfort Redefined:
Step into Hotel Colón and be transported to a world of refined elegance and supreme comfort. Each meticulously designed room and suite reflects a harmonious blend of contemporary sophistication and local charm. The hotel offers an array of thoughtfully curated accommodations, ranging from
cozy single rooms to spacious suites
, ensuring every guest finds their ideal sanctuary amidst the bustling city.
Impeccable Amenities and Exquisite Dining:
Hotel Colón's commitment to providing an unforgettable stay is exemplified by its impeccable amenities and attentive services. Take in breathtaking panoramic views of Barcelona's majestic skyline and the resplendent Barcelona Cathedral from the hotel's enchanting rooftop terrace. This idyllic space offers the perfect retreat to unwind and savor delectable culinary creations crafted with precision and passion. Indulge in the flavors of traditional Catalan and Mediterranean cuisine, elevating your gastronomic journey to new heights.
Beyond the Hotel's Thresholds:
While Hotel Colón delights guests with its opulent offerings, Barcelona beckons with its myriad attractions, awaiting exploration beyond the hotel's thresholds. Just a stone's throw away, the magnificent Barcelona Cathedral enthralls visitors with its Gothic grandeur, unveiling centuries of history through its intricate architecture and soaring spires. Immerse yourself in the city's cultural scene, from marveling at the visionary works of Antoni Gaudí to discovering the Roman and medieval treasures scattered inside the perimeter of the old city walls and of course, do revel in the captivating ambiance of tapas bars, seafood restaurants, and bustling local markets.
Hotel Colón stands as a testament to refined hospitality, embracing Barcelona's rich history and remarkable culture. Its exceptional location near the Barcelona Cathedral provides a gateway to the city's architectural marvels and hidden treasures. Through its exquisite accommodations, impeccable amenities Hotel Colón is the perfect ambassador of Barcelona.
Why not sharing your impressions with Barcelona Photoblog while you enjoy the impressive views of the Cathedral from Hotel Colon then?