Costumes in Monistrol de Montserrat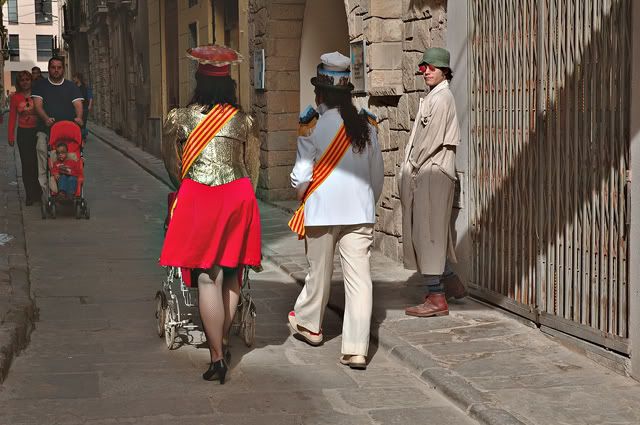 © All Rights Reserved
No more food for now, I promise. Now we will deal with people, people wearing costumes. These three characters were walking down the streets of a small town near Barcelona called
Monistrol de Montserrat
. You would think: it is a boring picture for a post,...it is! My archives are running out of images!...help. On second thought, why not just cropping the lady's feet. It would be great for promoting DP theme day - please read the
Recommended
section below -
From the Waist Down Theme
. Besides, I like the funny guy on the right standing in the sun with a smile, almost detached from the scene: maybe you could help me with the character, is he Mr. Gadget or Keanu Reeves travelling incognito in Europe?.
Recommended:
- On the very first day of each month most members of the
City Daily Photo
group try to post a picture related with a specific topic. Please visit our portal to browse the collective work, especially those cities participating in the
From the Waist Down theme
.
- Some incredibly good photos at
Photoblog
by Jovan (the page is in Russian but images speak for themselves)