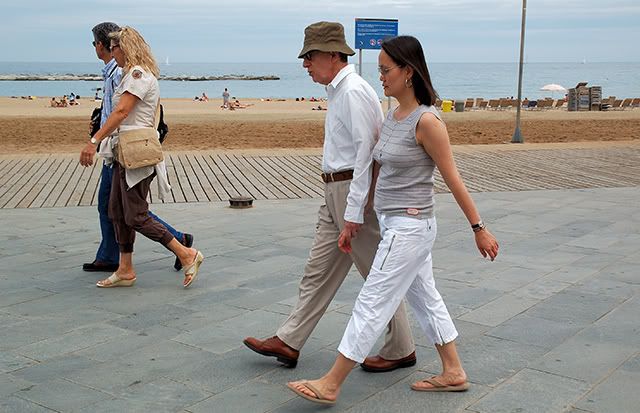 Everybody knows that Woody Allen is in Barcelona picking up the best locations for his
2008 movie
(according to some sources called "Midnight in Barcelona"). It is no secret that they start shooting next summer and that the main actors are Scarlett Johansson, Penélope Cruz, Javier Bardem and Rebecca Hall. Of course it is not the first time Woody Allen visits Barcelona, where he usually plays the clarinet with
the New Orleans Jazz Band
. Admirers he has many, not only because he has a long filmography but also because of the intelligent humor, his talent as an actor, the peculiar psychological traits of his characters, the perfect scripts and the European flavor of his work as film director. I have always been a fan of his movies so the other day after coming out of Can Manel restaurant near La Barceloneta beach I almost fell flat on my, you know, when I saw Mr. Woody Allen, the one and only and Soon-Yi strolling along the walk on their way to Hotel Arts. Thanks God my wife and I were sitting on a bench trying to hardly digest a superb paella and gee, I was holding my camera, ready, with everything tuned up (can you believe that!). He was my first celebrity, I loved his work and I was there! I did not stop to think about politeness and even forgot to ask him for an autograph. After I was done, I turned round to my wife: "Did you see that? That was Woody Allen" - she said. "I know, I got it all here" - I remarked wearing a big smile. "Look at my hands", I was still trembling!
Here is another similar snapshot I took of
Woody Allen and his wife, Soon-Yi
.
*New: And talking about famous actors and great movies, here is a LINK to a topic which is hot right now in Google:
AFI (American Film Institute) Best 100 Movies of All Times list for 2007
. Guess who is number 35?:
"Annie Hall," 1977
.