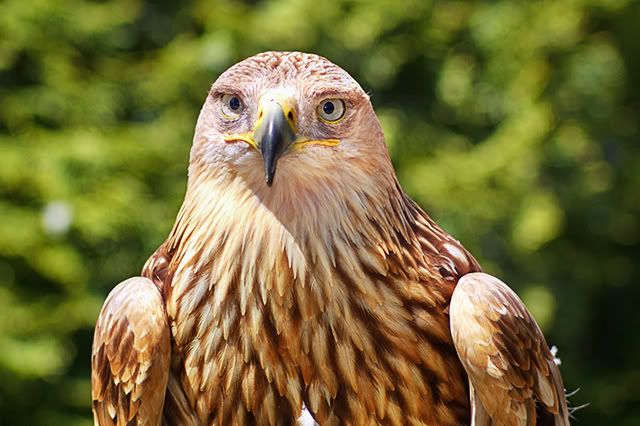 This is a young
Golden Eagle
or
Aquila chrysaetos
if my research on the web is not wrong. The purpose of my blog is not to offer accurate taxonomy or deepen into the biology of any given animal I happen to photograph although being concise does not mean to say: "this a bird!". The eagle is one of the many species of birds of prey that can be admired at
Cim d'Aligues
, a special center on the hills of Sant Feliu de Codines near Barcelona. There is an
old post
with a link and some further explanation about the place. If you have time try to reach this town. There is a magnificent view of the valley once you are inside the aviary. During the day there is a show where trained vultures, owls, hawks or eagles are released and claimed with bait using falconry techniques. You can admire them gliding over the valley. They take some time to return but eventually they are all back.
Note: Members of Cim d'Àligues' page on Facebook have made this important clarification: 'It's not a golden eagle, it's a young
Eastern Imperial Eagle
(
Aquila heliaca
)'. Thanks so much for correcting my mistake!