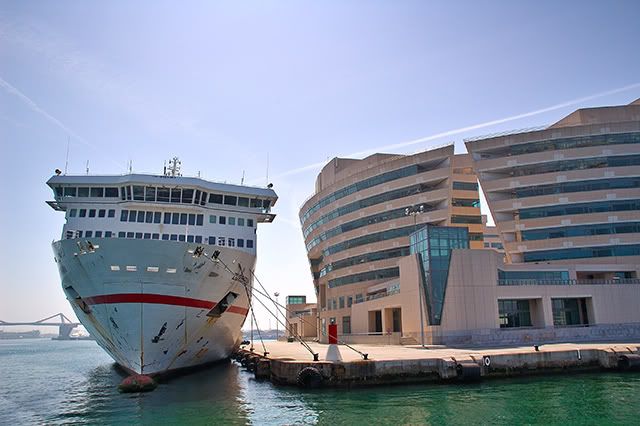 © All Rights Reserved
This is a close look on
World Trade Center Barcelona
(WTCB) at the end of Moll de Barcelona (
moll
means "wharf"). Built by Henry N. Coob of Pei, Coob, Freed & Partners, also known by his Hancock tower in Boston, WTCB is an eight storey complex divided in four buildings. Three of them, WTC North, WTC South and WTC East hold offices and the fourth is the Eurostars Grand Marina Hotel. Grand Marina with its 273 rooms is a 5 star GL hotel. Here is a
map
with an impressive view and helpful information. I got this picture from the deck of a sightseeing boat. If you use the cable car or
teleferic
which happens to have one of his towers (Torre de Jaume I, the intermediate station which is 158m/519ft) in front of the hotel you will have a privileged aerial view of WTCB and the cruiser terminals on the same wharf. Zurbaran is one of the ships that belong to Acciona Trasmediterranea, a company sailing to the Balearic Islands, the Canary Islands, Ceuta and Melilla. See
Zurbaran
coming out of Maon port in Menorca. There are international cruises in Barcelona port too departing from Adossat Wharf nearby but that is part of another story.
Now, commercials: Remember that now you can book anything you can think of from Barcelona Photoblog as for example
cruises
. Not that I am in the travel business myself. I think this is a new way of financing my photography while helping visitors find the best choice for travelling in Barcelona. There are more
travel options
at the bottom of each post (perhaps booking a room at Grand Marina Hotel!). Please tell me if you find this annoying in any way.