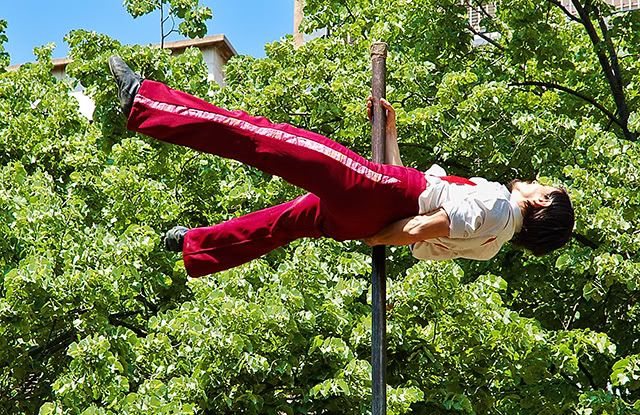 Talking about being lucky and random photography: We came across this show in Terrassa (in the outskirts of Barcelona) where a small group of artists was performing as part of the public activities organized by local authorities.
The place was crowded and we were a little at a loss since this was only our second time in town. I took pictures of many artists but one of the acts really caught my eye: there were these two men, one holding a big pole on straps and the other climbing to the top with feline agility, they were doing the
Perch Act
.
Notice the impossible pose of this guy, with his legs fully extended like some sort of human flag or vane pointing in the direction of the wind. I managed to take a picture of them
backstage
and to hear their names over the loudspeaker. Well, now thanks to the magic of the web and the little traces of memory I have left, I found out that these two men are well known in the circus world and the media. Here is their official site and some beautiful pictures. Ladies and gentlemen: Luciano Martin and Kike Aguilera from
Zahir Circo
. Let the show begin!